THE BUNKHOUSE
The Bunkhouse in the barn is for the traveler who likes privacy or who enjoys being near the horses. It features a mini-kitchenette with microwave oven, under-the-counter refrigerator, toaster, coffeepot, electric fry pan, and dishes. Breakfast items are provided. A TV/VCR, private bath with shower, queen bed, vaulted-ceiling, and in-floor radiant heat make this a cozy retreat. Price $70.
This site is available for extended stay. Inquire about price.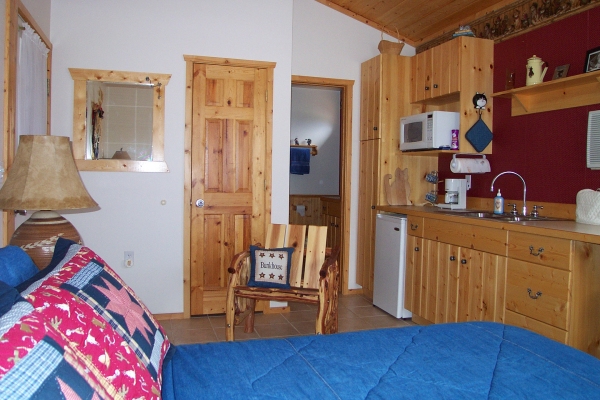 THE SUNDOWNER ROOM

Located on the main floor in the house, this spacious room features a queen bed and a private bath with shower. This room offers a scenic view of the rugged country-side and local wildlife. Enjoy a cup of coffee and watch the horses graze from your private deck. Price $90.

Breakfast dining is on this level and provides an exceptional view while starting out your day with a hearty meal. Breakfast times are flexible.

THE LOWER LEVEL

A separate drive-up entry is ideal for families, or for those wanting larger, more private quarters. The large family room has a rock fireplace, TV/VCR and wet-bar with under-the-counter refrigerator.

Two guestrooms are available. These two rooms share an adjacent private bath with tub and steamer shower. The lower patio is perfect for those who like to enjoy those quiet, summer evenings.

Price $90 for one bedroom; $120 for both bedrooms.
A queen sleeper can be utilized if needed for an additional fee per person.

THE DOWNUNDER ROOM
is complete with queen bed, oak funishings, large walk-in closet, and canyon views.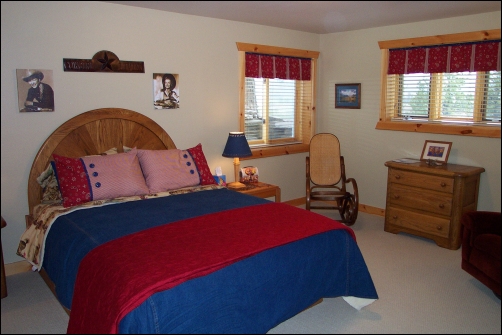 THE BUCKAROO ROOM
is decorated in a whimsical western theme and brass full-sized bed, and is most suited to guests who are traveling with children or a single adult.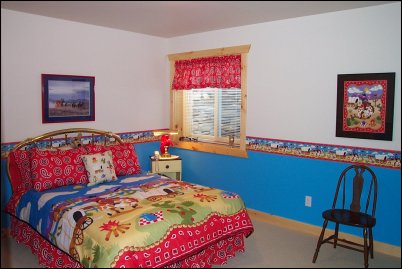 Home | Directions & Map | Reservation Info

This website created and maintained by Cruising America
Copyright(c) 2002-2007