In this sylvan setting, it's hard to believe that the busy tourist town of Jackson with its fine Western art galleries, cowboy bars, and upscale restaurants, is only eight miles down the road, and Grand Teton National Park several miles to the north with Yellowstone just beyond.
Your host, a 45-year local, guide and traveler, delights in sharing information! He is a former wilderness guide and has lots of ideas for the day's activities. Some guests may decide on a daylong trip through Yellowstone National Park or a drive along the nearby benchland above the cottonwood-lined Snake River. An afternoon could be spent hiking the trail around Jenny Lake or up into the ragged peaks of the Grand Teton Mountains.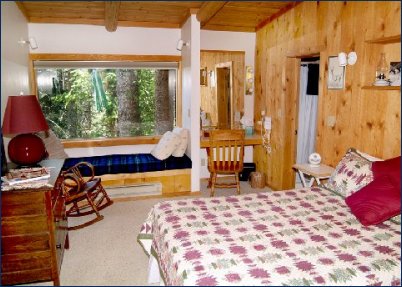 Six guest rooms await you. All the rooms have excellent beds, private baths, decks, window seats and fantastic views! With a room up here and down there and around that corner, its a little like entering one's childhood fantasy. The Tree House has several levels of decks and an outdoor hot tub available for guests.
In the evening, a guest at the Tree House might curl up with a book in front of the two-story adobe fireplace. Or, test their skill at chess or Scrabble.

Awake to the tempting aroma of baking and join with other guests to indulge in fresh fruit, hot porridge and delicious homemade yeast and sweet breads. All our breakfasts are heart-smart, low cholesterol and delicious! Our own homemade granola is even available.
CLICK HERE for MORE PICTURES of the Teton Tree House and Grand Teton National Park.


2008 Rates - Double Occupancy
High Season
June 15 - Sept. 14
(3 night minimum)
$205-250, $460
Rooms, Suites
Regular Season
Dec. 15 - March 30/Sept. 15 - Oct. 31
$195-240, $440
Rooms, Suites
Low Season
April 1 - June 14/Nov. 1 - Dec. 14
$185-230, $420
Rooms, Suites

P.O. Box 550
6175 Heck of a Hill Road
Wilson, WY 83014
Phone: (307) 733-3233
Fax: (307) 733-0713
Email: ATetonTreeHouse@aol.com

Check-In 3 - 5 PM
If this is not possible, please let us know.
Check-out 11 AM
50% deposit required to make reservation.
Final balance due 30 days prior to arrival.

Cancellations with a refund (minus $25 per room cancellation fee) are possible up to 30 days before the reserved lodging begins. With less than 30 days written notice, all deposits are forfeited unless rebooked.
No smoking, pets or children under the age of five, please.

Our Favorite Links: